Sweet Arrow Lake County Park

Official site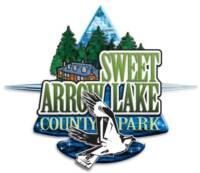 Boat Mooring at Sweet Arrow Lake County Park

Boat mooring for canoes, kayaks, Jon boats and similar shore launched watercraft is located at the Fish and Boat access area. 

Rules and Regulations

1.

A charge of $40.00 per year will be assessed to those storing their boat at Sweet Arrow lake County Park.  
2.

The charge is a flat rate. Payments will be due by March 15th of each year or when a person begins to store their boat.  If the payment is not received, or the boat is not removed by the owner by October 15th, the boat will be removed from the premises.
3.

Storage is open to the public but with limited space. It will be on a first come – first serve basis.
4.

It will be the sole responsibility of the owner of the boat to supply his or her own chain and lock.   Identification tags provided by the County must be attached to the chain.
5.

Boats may be moored from March 15 through October 15th only.
6.

The County of Schuylkill will not be responsible for any damage or removal of boats stored at Sweet Arrow lake County Park.
7.

Applications for Boat mooring permits can be obtained by contacting the Parks and Recreation Supervisor at 570-527-2505.